Prince Edward Island (PEI) is Canada's smallest province, measuring only 220 km (137 mi) long by 64 km (40 mi) at its widest. It's a great cycling destination for people who like quiet back roads and little in the way of hills.
If you are new to multi-day bike trips, this is a good one to start with. Cycling PEI doesn't get much easier than on the mostly flat roads that cover the province – the smallest and least populated of Canada's 10 provinces. We cycled PEI over five days – its entire length – but it could be done in one very long day. But then what would that accomplish?
This post includes some affiliate links. If you make a qualifying purchase through one of these links, I may receive a small percentage of the sale at no extra cost to you.Thank you very much.
Cycling PEI – the kind of roads and trails to expect
You can expect to ride a mix of scenic roads as well as sections of the 273 km long Confederation Trail, an old rail bed that is now a multi-use trail. The roads and trail take you through a patchwork of farmland, past thousands of acres of potatoes fields (PEI's most famous export) on gently rolling terrain with occasional coastal sections.
A real treat is the 10 km (6 mi) multi-use trail along the Gulf Shore Parkway in Prince Edward Island National Park.
Where to start your cycling trip in PEI
If you want to cycle the length of the island, then you need to start at either North Cape or East Point, and for that you'll need to arrange a shuttle.
We had flown into Charlottetown and had no interest in renting a car and so organized a shuttle from Charlottetown to the North Cape via MacQueens, a bike company specializing in tours of PEI.
Note: Another company in PEI that offers rental bikes, shuttle services and help with trip planning is Outer Limit Sports.
Where to stay in Charlottetown: I'd suggest The Great George near the historic Charlottetown waterfront based on personal experience. You can walk everywhere from this hotel.
If you start at North Cape, you can visit the North Cape Wind Interpretative Center and take the prerequisite starting photograph at North Cape Historic Lighthouse before heading out.
The North Cape is a spot where they test wind turbine design…so you can imagine the start. But it is easy cycling, if the wind is at your back for the 35 km (22 mi) to Northport, a lovely spot to spend the night.
Northport to Summerside by bike
From Northport, it's 84 km (52 mi) to Summerside. The roads take you through picturesque fishing villages, past rivers where you might see oyster fisherman working. You'll cycle in sight of Malpeque Bay – world famous for its oysters.
Next up, and only 58 km (36 mi) away, is Cavendish and Prince Edward Island National Park. This is where you'll find some lovely beaches and the Anne of Green Gables House.
From there, the ride to Brackley Beach, 33 km (21 mi) to the east, is beautiful. This is one of the most famous of the 40 or so beaches in PEI. The swimming is pleasant too. Water temperatures are as warm as any you'll find north of North Carolina.
If you don't want to stay at Brackley Beach, I'd recommend the Barachois Inn in Rustico. A full English breakfast comes with a stay.
St. Peter's Bay
The next destination, St. Peters Bay, can be accessed via highways but do the Confederation Trail through here. It's flat and in no time you'll knock off the 68 km (42 mi).
Should your legs have some extra juice, cycle the very scenic section of road around St. Peters Bay to Greenwich. Lock your bikes and head out for a 4.8 km (3.0 mi) walk on the trail to the Greenwich Dunes. Spectacular boardwalks, parabolic sand dunes and a beautiful beach are the reward.
Stay: The Inn at St. Peters is a premier place to stay, offering ocean views and well-tended grounds. If you want something a little smaller check out the Tír na nÓg Inn – a B&B rated exceptional.
The final 56 km (35 mi) to the East Point Lighthouse can be dispatched in just a few hours. Here, you can see where the Northumberland Strait meets the Gulf of St. Lawrence. From here you can hop a ferry and five hours later land in the Magdalen Islands, another great spot for cycling….and photography.
That ends the tip to tip part of the bike ride. But if you've got time, I'd recommend weaving your way down the coast and back around to Charlottetown. It could be comfortably done in a few days.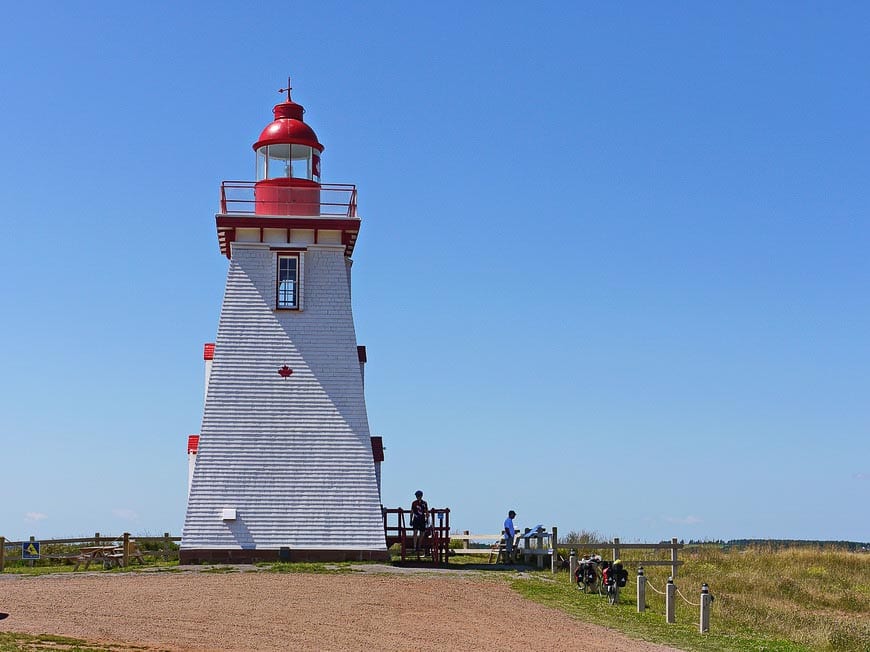 The best part about cycling PEI
PEI is clean, tidy and safe. There's barely a blade of grass out of place. The citizens are law abiding -coming to a screeching halt at any intersection with the Confederation Trail.
It's quite unlike anything I encountered when I lived in Vancouver. Friendliness and helpfulness must be in the gene pool. Three offers of truck rides for our bikes occurred in just a few days.
Enjoy the food in PEI – especially after burning off all those calories cycling. Look for scallop burgers , lobster in every form imaginable, haddock and if you get the chance I highly recommend a meal and a stay at the famed Inn at Bay Fortune.
Life is good in PEI. Come see for yourself.